Back to the list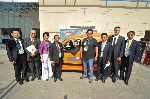 The Climate Group and the Prince Albert II of Monaco Foundation host Electric Vehicle (EV) leadership summit at Shanghai's World EXPO 2010
China
• Efforts of two of the world's biggest and smallest countries – China and Monaco – hope to help turn world's 1 billion vehicle fleet electric
• New Climate Group report says growth of China's EV market could be "exponential" as government policy puts low carbon EV technologies at the heart economic plan for the next 10 years
• Venturi / Citroen challenge – 100% electric 'La Poste' truck sets out on 13400km Shanghai-Paris trip to deliver positive message that EV technology is ready

SHANGHAI, 3 May 2010: International NGO The Climate Group and the Prince Albert II of Monaco convened an electric vehicle leadership summit today at Monaco's Pavilion at the Shanghai World Expo 2010 to explore how the world's biggest and smallest countries are hoping to turn the world's 1 billion vehicle fleet electric.

The summary findings of a new report by The Climate Group "Towards Market Transformation: ElectricVehicles (China)", co-ordinated by Bain & Company, says that China's policy-makers have put EV low carbon technology at the heart of their economic growth plan for the next 10 years, underpinning not only the nation's economic developmental goals but social, environmental and energy security objectives too.

Emphasising the robustness, reliability and universal applications of electric vehicle technologies, Monaco car manufacturer Venturi Automobiles and partner PSA Peugeot Citroen will today launch a new world record attempt to travel 13400km from Shanghai to Paris in a 100 per cent electric truck, identical to those supplied to the French postal service 'La Poste'. The adventure's environmental aims are supported by the Prince Albert II of Monaco Foundation. The Principality has had a strong policy of incentives for EVs for the
last15 years.

The Climate Group's EV20 working group meeting in Shanghai is the latest in a series of meetings to build an international 'coalition of the willing' to rapidly advance the commercial deployment of EVs around the world. There will be further meetings in New York (US) and Cancun (Mexico) later this year.
Speaking at the Climate Group EV20 working group event today:

HSH Prince Albert II of Monaco says: "EVs can drastically improve urban air quality and reduce the impact of transportation in the field of greenhouse gas emissions and consequently on our climate and our energy resource. In the future I am sure that the energy storage potential that fleets of EVs offer will help better integration of renewable power into our grid systems – the car of the future will be powered, I hope, by electricity coming from wind, sun or water."

Changhua Wu, Greater China Director of The Climate Group says: "Climate change presents challenges and opportunities for every nation. It is only by all countries working together - big and small - that we will see the global market transformation we need in key low carbon technologies such as EVs. As the world's largest auto market, China is in pole position to help lead this global clean industrial revolution and growth of this strategic domestic EV market could be exponential."

Professor C.C. Chan, Fellow of the UK's Royal Academy of Engineering, Academician, Chinese Academy of Engineering and President of the World Electric Vehicle Association says: "For developing countries like China, adaption to climate change is not only a necessary task but an urgent one. To reach the bold emission reduction targets China has set itself, we must put low carbon technologies at the heart of our economic strategy and to encourage our businesses and citizens to conserve energy and reduce emissions. The promotion of new energy vehicles including electric and hybrid vehicles is essential."

Mr Yong Ren, Deputy General Manager and Fellow Senior Engineer of Chang'an New Energy Automobile
says: "Right now the development of electric vehicle market is at a crossroads. Technology and government policy are the two major driving forces needed to grow this market. If we can deploy both of these, then I believe the day that changes the way the world travels is not far away."

Gildo Pallanca Pastor, President, Venturi Automobiles, says: "The speed at which it could be possible to transform the world's fleet to electric is exciting. At Venturi we are proving that EV technology is ready for commercial use. Our landmark Shanghai-Paris challenge will show EVs are not only better for the planet but are robust enough to cope with everyday use in any environment."

Mr Liu Zhengyao, Senior Engineer and Deputy General Manager of Citic Guoan Mengguli (the company operating 60 electric buses for the Shanghai Expo) said: "Climate change is a crucial challenge to all beings on earth. We should take action from all perspectives as soon as possible, in order to contribute to energy conservation and emission reduction."

Photography relating to all these announcements is hosted at: http://www.flickr.com/photos/theclimategroup/sets/72157623734991783/

Why do we need Electric Vehicles?
Our transport system connects people to places and businesses to markets. It is fundamental to economic strength and quality of life.
Over the long run it must become increasingly sustainable.
In most developed countries, road transport is responsible for about a quarter of CO2 emissions and cars are responsible for the vast
majority of this. The use of alternative fuels, like electricity, can help reduce these emissions, and in the case of electricity help alleviate
local air quality problems. For example, an electric car powered from today's grid could emit between 15% and 40% less CO2 over its
lifetime than a comparably sized petrol car and this will improve as the electricity generating sector moves to low carbon energy
sources.
Energy consumption and CO2 emissions are becoming the drivers of change for the transport sector, particularly given the forecast
growth in vehicle numbers. There are currently some 1 billion vehicles in the world, and many consider that this number could reach 2
billion by 2020.
Global demand for oil is set to rise from 84.7m barrels per day (bpd) in 2008 to 105m bpd in 2030, says the International Energy Agency
in its latest annual energy report. Transport will account for 97% of this increase as rising numbers of cars hit the roads of the
developing world. Demand from these countries will overtake that of the industrialised OECD nations by 2030. By then, America, Japan
and Europe will be using less oil than in 1980. But the thirst for oil will balloon in Asia—and in India and China in particular—where
demand is predicted to rise by as much as 400% compared with 2008. (Economist, 13 November 2009)

About The Climate Group (www.theclimategroup.org):
The Climate Group is an independent, not-for-profit organisation working internationally with government and business leaders to advance smart policies and technologies to cut global emissions and accelerate a low carbon economy. Its global coalition of 78 leading companies, states, regions and cities around the world recognise the economic and environmental imperatives of taking decisive action now. The Climate Group was founded in 2004 and has operations in Australia, China, Europe, India and North America.
Major Chinese companies that have recently joined The Climate Group include China Mobile, Suntech, Broad Air Conditioning, Taobao.com, Lenovo, CEICC and Tiptop Real Estate. A full list of The Climate Group corporate and government members is at
http://www.theclimategroup.org/our-members/

About the EV20 Partnership:
The Climate Group has convened a ground-breaking global initiative to speed the global deployment of plug-in electric vehicles. Chaired by HSH Prince Albert II of Monaco, the EV20 is to bring a core group of leading cities, states and nations, auto manufacturers, fleet owners, financiers and electric vehicle value chain players to focus on activities in the next three years to speed up market transformation by 2020. The Climate Group announced that it would establish a "EV20 Working Group" at its Climate Leaders' Summit (COP16) in Copenhagen in December 2009 ahead of a formal launch in 2010. The EV20 initiative is to focus on sharing best practice in policy and in finance, and EV fleet procurement. It hosted a group of governments, companies and other interested parties (Electrification Coalition, ZEM Alliance, PA2F, Postcode Lottery etc) who would develop the strategy for an EV20 initiative to launch in 2010.

About The Monaco Pavilion at Shanghai World Expo:
For more details of the Monaco Pavilion visit http://en.expo2010.cn/c/en_gj_tpl_84.htm

About The VENTURI & its Global Challenges Mission 02 « Shanghai to Paris – 100% Electric » (www.shanghai-paris.fr)
The 2nd mission of the Venturi Global Challenges is an amazing human experience: about 80 years after André Citroën's adventure of "La Croisière Jaune" (the yellow cruise), Venturi will accomplish the return journey, from Shanghai to Paris in electric vehicle. The purpose of this adventure of 8 300 miles (13 400 km) through China, Kazakhstan, Russia, Ukraine, Poland, Czech Republic, Germany and finally France is to establish a new distance record for electric production models and to demonstrate the reliability of Venturi's electric vehicles. Husband and wife driver team Xavier Chevrin and Géraldine Gabin will depart China on May 3rd, 2010 in the Pavilion of Monaco in Shanghai China Expo 2010 (Universal Exhibition of Shanghai). The vehicle will arrive in Paris in August 2010 setting a new world record attempt for the longest distance covered by an EV. In partnership with Prince Albert II of Monaco Foundation, several conferences will be organized throughout the course on the topic of new energies, technology of electric motors, and the trip itself (geography, anthropology, and history).
Car manufacturer, VENTURI (www.venturi.fr) has pursued for close on ten years a sustained innovation policy in the field of electric
vehicles. Mastering the most advanced technological solutions in this sector, VENTURI's expertise ranges from urban to high-
performance vehicles.

"Towards Market Transformation: Electric Vehicles (China)" report: Key Findings:
• EVs can cut China's carbon emissions: The energy efficiency of EVs is 46 per cent higher than internal combustion engines
(ICEs), plus a carbon-dioxide reduction potential of 13-68 per cent. Also V2G (vehicle-to-grid) technology will significantly relieve air
pollution in cities.
• EVs will improve China's energy security: Developing EVs will help improve China's energy security and reduce China's reliance
on import of oil. In 2009, over half of China's oil was imported.
• EVs to boost China's economy: EVs will financially benefit associated industries such as companies that produce and supply
batteries, electric motors, electric controls, automotive parts and infrastructure.
• Government incentives for EVs: The Chinese government aims for five per cent of total car sales to be for new energy cars by
2011. This will be more than 600,000 vehicles (total sales of auto in China last year: 13 million). Twenty billion Yuan will be spent by
the government for the promotion, manufacture and sale of new energy cars, focusing on EVs.
• Ten Cities, One Thousand Vehicles: The Chinese government has devised the Ten Cities, One Thousand Vehicles plan which is
set to demonstrate the operation of 1,000 new EVs in ten cities each year to encourage people to buy them.

An English summary and Chinese language report is hosted at www.theclimategroup.org
See also: Our China's Clean Revolution I & II reports http://www.theclimategroup.org/publications/2009/8/20/chinas-clean-revolution-iiopportunities-for-a-low-carbon-future/
CHINA

MONACO

World's largest country

World's 2nd smallest country

Population

1.3 billion

33 000

No. cars nationally

170 m (total vehicles in 2008)
(70m cars, 91m motorcycles)

39,000 (total vehicles)
35,000 cars, motorcycles not included

EV 2020 targets

9 % by 2020

20 % by 2020

EVs by 2020 (produced or on road)

1,7 million units

NA

Key EV policy incentives

13 EV pilot cities
Subsidies for buses ($70k) and taxis ($8.5k) in each pilot
National policy commitment in 2010

Subsidy of 30% of the purchase price of BEVs up to €9000 and €3000 FOR HEV
Free charging at public charging points
Circulation tax exemption for EVs
38% of vehicle fleet of postal comprised of EVs
Partnership agreements with - Mitsubishi, Renault Nissan Alliance, and Daimler (Smart)

Current no. EVs on the road

5,000 (Ministry of Science & Technology)

495 (286 EVs + 209 HEV)

No. vehicles on the road by 2020

160 million

NA

Charging points (x by 2012)

366 free of charge

Reasons for move to EV

Economic development
Energy security
Pollution control
Resource exploitation
Tech manufacturing expertise

Economic development
Climate change mitigation targets
Reduction of oil dependence
Local pollution reduction

Leading EV manufacturers

BYD, Chery, Dong Fen

Venturi