Back to the list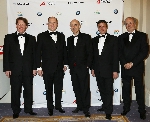 The Climate Group Celebrates 10th Anniversary
Monaco
A host of high profile supporters, dignitaries, government leaders and celebrities gathered in Monaco for The Climate Group's 10th anniversary gala dinner, hosted under the high patronage of His Serene Highness Prince Albert II of Monaco and co-organized in partnership with his Foundation. The event was held at the Salle Empire at the luxury Hôtel de Paris in the heart of Monte Carlo.
HSH Prince Albert II of Monaco, says: "For all those who, like me, have made the fight against climate change a priority, for all those who want to take concrete action and generate maximum awareness concerning this essential cause, the Climate Group has now become a reference. I am delighted that my Foundation is a partner and I am delighted that you have chosen Monaco to celebrate ten years of growth, success and hope here this evening."
Mark Kenber, CEO of The Climate Group, says: "Time is running out to act on climate change. I am delighted to be working in partnership with HSH Prince Albert II of Monaco to help raise awareness of this very time critical issue."
As part of the evening's programme, renowned Sotheby's auctioneer Lord Harry Dalmeny, auctioned a host of unique experiences and luxury items including a once in a lifetime opportunity to accompany HSH Prince Albert II of Monaco on a two-day journey which included time spent on board the famous TARA sailboat in the Northern Cyclades. The Prince Albert II of Monaco Foundation has been supporting TARA's scientific expeditions for many years.
In addition, the catalogue of luxury auction lots and raffles prizes also included a seven night stay on Sir Richard Branson's Necker Island, prestigious Picasso linocuts, a VIP meet and greet with Sir Paul McCartney, a private piano lesson with Jamie Cullum, a chance to meet world renowned tennis player, Henri Leconte at the Royal Albert Hall in London, a limited edition vintage IWC Schaffhausen watch and an exclusive eco-luxury holiday at Soneva Fushi to name but a few. The funds raised during this auction will be shared between The Climate Group and the Prince Albert II of Monaco Foundation to support their respective actions in the domain of climate change.
Guests were also entertained by a live performance from British songstress Paloma Faith. The three time BRIT-nominated Paloma wowed guests with a powerful showcase of songs, all performed with her exciting style and flare.
The Gala dinner was supported by the Dutch Postcode Lottery and BMW. For the pre-Gala cocktail reception the BMW Group provided a shuttle service with a fleet of BMW i3. The sub brand BMW i stands for visionary vehicles and mobility services, an inspiring design and a new understanding of mobility which is strongly oriented towards sustainability.
Founded in 2004, The Climate Group delivers programmes in China, Europe, India and North America. The group is an independent, not-for-profit organisation which works with some of the world's most influential decision makers in business, government and civil society, and its International Leadership Council includes Sir Richard Branson and HSH Prince Albert II of Monaco.
Since 2004, The Climate Group has helped to push through ground breaking legislation in the US and UK, created the Verified Carbon Standard (VCS), now the most popular global standard for voluntary offsetting. The Climate Group has also worked with the Prince Albert II of Monaco Foundation on a series of low carbon programs including the EV20 initiative where HSH Prince Albert II chaired the EV20 Working Group. The Working Group assembled a coalition of leaders – businesses and governments – committed to transforming the market for electric vehicles by 2020.