Back to the list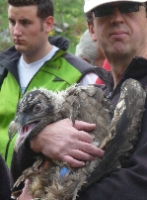 The incredible social life of the vultures released by the Prince Albert II Foundation.
Monaco
Recent observations of our vultures have resulted in key information being obtained on the sociability of the bearded vulture.
Elena and Spelugue are the names of the two vultures that were released this year in the San Giacomo di Entracque hills in the Parco Naturale Alpi Marritime. They have both been adopted, with no human intervention, by an adult vulture, "Paolo Peila", which recovers meat left in the surrounding valleys by wardens from the Parco Naturale Alpi Marritime and takes it directly to the nest. Until now, this type of "adoption" has never been observed.
The 21st of june, to celebrate the first day of summer, Elena, 123 days old, took to the air and made several flights lasting approximately one minute each, landing in an extremely controlled manner (which has not always been the case – we remember the first "tumble and roll" landings made by Rocca, released in 2007). Well inspired by Elena, Spelugue also took her first flight the day after at the age of 116 days. This can be considered as an average age for a first flight.
Last week, Vaulabelle and Condamine were spotted in the same area in the Upper Ubaye (Col de Larche) in the north of the Parc du Mercantour. Observers from the Parc du Mercantour noticed that the two vultures were already inseparable three months after their release. The fact that one year later they are still to be found in the same area provides interesting information on the sociability of these animals.
For readers' information, Vaulabelle and Condamine are the two female bearded vultures that were released in Vignols on 5th June 2009 in the heart of the Parc du Mercantour by H.S.H. Prince Albert II and Ms Chantal Jouanno, the French Secretary of State for Ecology.
Observation of these two vultures in flight is easy thanks to the discolouration of certain feathers when they were released (discoloured feathers can be clearly seen on the photo of Condamine). Moulting is an extremely long process in birds of prey. With vultures, a period of between two and four years is necessary for a complete renewal of the feathers. Once these discoloured feathers have fallen off, only very advanced observations of their ringing using a powerful telescope or DNA testing on their feathers will enable us to identify them, as was Paolo Peila, the vulture protecting and educating Elena and Spelugue.