Back to the list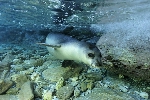 The Prince Albert II Foundation takes action to save the monk seal
Monaco
The Prince Albert II of Monaco Foundation is the initiator of a protection project for the Mediterranean monk seal whose field activities will be launched by the end of 2013 by the Foundation's technical partners: Tethys, WWF Greece and MOm (Hellenic Society for the Study and Protection of the Monk Seal).
The monk seal, which was once an emblematic species of the Mediterranean, is now one of the most endangered mammals in the world. Hunted uncontrollably for over a century and driven from its natural habitat due to coastal urbanisation, the monk seal is currently threatened with extinction. It is estimated that only 300 to 500 individuals are to be found in the Mediterranean region today. Urgent action is required from the Foundation and its partners for the sake of the small surviving population.
The largest Mediterranean colony (approximately 60 individuals) is established on the small Greek island of Gyaros. In the past the site of a military prison, this uninhabited island has become a natural paradise for the monk seals. Now that the military have left, the seals' indirect protection has gone, making this colony, in turn, vulnerable.
Over the past two years, the Foundation has organised several workshops in the Principality involving top experts on this species. These various meetings have resulted in a feasibility study being carried out by the Tethys Institute which is specialised in marine mammals, in order to set up a conservation programme for the species.
The aim of this conservation project is to create a Marine Protected Area (MPA) around Gyaros Island, thus regulating industrial fishing and protecting the seals' natural habitat.
The MPA will be managed according to a participatory system including fishermen, local authorities, the tourist sector and scientists. Local players will therefore be able to take the future MPA on board and develop this natural wealth of Greek waters that the monk seal is. By regulating industrial fisheries, the MPA will also provide traditional local fishermen with the opportunity of reclaiming these ancestral waters. Protection of the monk seal is therefore an environmental, social and economic issue.
The project recently obtained significant funding from the European Union via its LIFE+ programme. It is also supported by the Blue Marine Foundation and received La Prairie Award for "Innovation in Marine Protection".
The project's success will provide a reproducible example for other regions of the Mediterranean.