Back to the list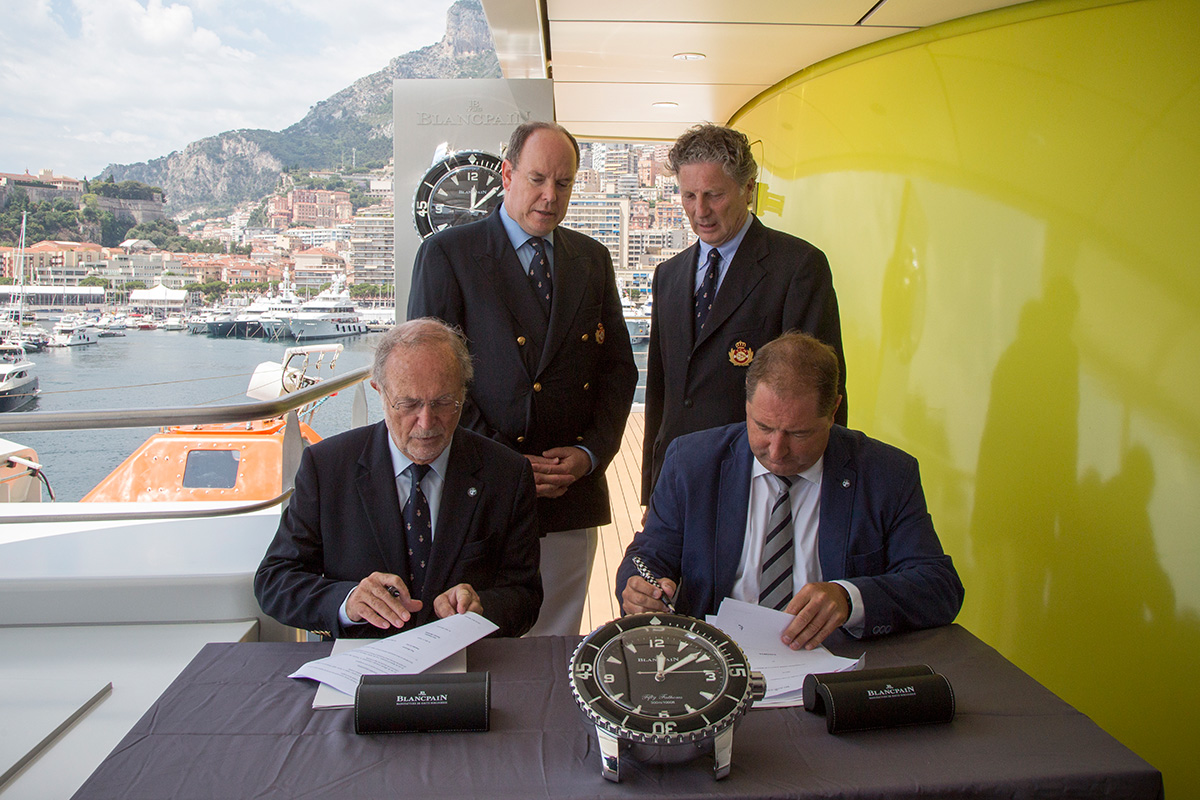 The Prince Albert II of Monaco Foundation and Blancpain formalize their institutional partnership
Monaco
Continuing the exceptional legacy of Prince Albert I of Monaco, who, during his lifetime, undertook 28 exploration projects and is internationally renowned as a pioneer of modern oceanography, H.S.H. Prince Albert II, a committed Head of State, today ensures that marine and environmental issues are at the forefront of the international stage, through his Prince Albert II of Monaco Foundation. The Foundation is involved in the realms of climate change, renewable energy, biodiversity, marine resources and desertification. It supports a great many projects in specific geographical zones such as the Mediterranean basin, the polar regions and developing countries, as well as encouraging environmental preservation and sustainable development. Together with its partners, the Foundation strives to improve awareness of the impact of human activity on natural environments in order to encourage ecological awareness.

Honoring its close ties with diving and the Fifty Fathoms heritage which goes back six decades, Blancpain has dedicated itself to the cause of conservation and safeguarding of the oceans. The brand's endeavors in this realm are united under the Blancpain Ocean Commitment label. The Manufacture is convinced that support for the protection of the environment depends directly on public information and strives to encourage overall awareness as well as sponsoring large-scale scientific projects, oceanographic explorations, underwater photography, environmental forums, public exhibitions, high-profile publications and a dedicated website.

The Prince Albert II of Monaco Foundation and Blancpain have a shared philosophy regarding the protection of the marine environment and the promotion of sustainable development of the "blue economy" on an international scale. The Foundation and the Manufacture work to combine forces in order to lead concrete activities, raise public awareness, and promote innovative initiatives and solutions. Both parties already collaborate by supporting the National Geographic Pristine Seas initiative of which Blancpain is a long-serving partner and for which H.S.H. Prince Albert II is president of the advisory committee. The program notably enables the protection of vast marine areas in the United States, Great Britain, Chile, Gabon, Kiribati and Costa Rica, which now extend over more than 2,200,000 square kilometers. These protected areas represent a key condition in grasping the true dimensions of the impact made by human beings on ocean life and evaluating the implementation of conservation activities. They also embody an essential step in improving ocean health for future generations.

Both parties are particularly proud of having successfully sealed their agreement on the occasion of the blessing of the innovative multi-purpose vessel M.V. Yersin, and extend their warmest thanks to Mr François Fiat and his crew.