Back to the list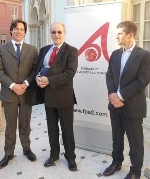 The Prince Albert II of Monaco Foundation and Financière de Champlain sign an environmental protection partnership agreement
Monaco
On 3rd February 2010, Financière de Champlain(1) and the Prince Albert II of Monaco Foundation signed a memorandum of understanding on their complementary expertise and financial support of the Foundation's projects via the International Environment Performancemutual fund(2).
2010 has been classed by the United Nations as the International Year for the Protection of Biodiversity. In this context, the partnership between Financière de Champlainand the Prince Albert II of Monaco Foundation symbolises a joint commitment based on the values and visions that both organisations share:
"Cooperation with the Prince Albert II of Monaco Foundation is part of our plan to develop strategic partnerships (Nef Capital Ethique Management in December 2009). It consists of combining our efforts to encourage the development of more useful finance. This partnership will notably enable us to enhance our expertise in key themes such as biodiversity." (Jean-François DESCAVES – President)
"In addition to its environmental expertise, Financière de Champlain shares our global vision of the issues linked to sustainable development and the need to see man at the centre of strategies once more." (H.E. Bernard Fautrier, Vice President – Director)
This partnership is mainly based on three axes:
Using the potential of a green fund for the protection of the environment

Developing expertise synergies at an international level

Supporting the development of the theme of biodiversity within civil society
(1) Financière de Champlain
Created in 2000, Financière de Champlain is a management company specialised in the world of sustainable development (environment, health, ethics and solidarity). It set up the first green fund in France in 2004.
(2) International Environment Performance mutual fund In order to provide financial support to projects run by the Prince Albert II of Monaco Foundation, Financière de Champlain introduced a specific section (part G) in its International Environment Performance fund, set up in 2006.
For more information, please visit: www.financieredechamplain.fr