Back to the list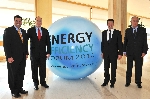 The Prince Albert II of Monaco Foundation and Johnson Controls Inc. launch Euro-Mediterranean Energy Efficiency Forum
Monaco
Within the framework of its actions in the domain of climate change, the Prince Albert II of Monaco Foundation has concluded in July 2009 a partnership with Johnson Controls Inc. in order to address the issues of energy efficiency and climate change throughout Europe and the Mediterranean Basin.
One of the goals of this partnership is to establish a dialogue between all the key stakeholders: governments, businesses and individuals to think and act on energy efficiency and climate change.
Thus, the Prince Albert II of Monaco Foundation and Johnson Controls (NYSE:JCI), the global leader in delivering products, services and solutions that increase energy efficiency in buildings, organized the first edition of the Euro-Mediterranean Energy Efficiency Forum in Monaco on April 25-26, 2010.
The event has brought together experts from government, non-government organisations, economic and academia actors to debate how Europe can achieve meaningful energy saving targets.
Effectively, today, buildings consume more than a third (35 percent) of the world's energy resources and account for 40 percent of greenhouse gas emissions. However, improving building efficiency represents the most economically viable opportunity to reduce energy consumption.
The Euro-Mediterranean Energy Efficiency Forum was opened by His Serene Highness Prince Albert II of Monaco, Christian Estrosi, French Minister in charge of Industry and Mayor of Nice, and David Myers, president, Johnson Controls Building Efficiency.
"The Euro-Mediterranean Energy Efficiency Forum brings together some of the world's leading experts to discuss strategies that deliver significant energy efficiencies," said David Myers. "We believe that building technologies represent a huge opportunity for cutting emissions. Energy use in commercial buildings could be reduced by a fifth (20 percent) simply by using existing technologies, which would reduce carbon dioxide emissions by 30 percent.
"This first Euro-Mediterranean event builds on the legacy of the Energy Efficiency Forum that Johnson Controls has supported since 1990 in the U.S. and further demonstrates our commitment to improving efficiency and sustainability through innovative building technologies," added David Myers.
During his opening address, HSH Prince Albert II of Monaco, declared: "Improving energy efficiency means that we all have to take action concerning both our environment and our lifestyle. It means that it is possible to make concrete changes, combining individual logic and collective efficiency, to work toward shared progress and a world both more welcoming and more responsible. What is more, by improving individual energy performance, each of us is acting for the planet, whilst continuing to maintain our comforts and safeguarding our finances. We should not forget that this creates economic momentum, which for once, does not recklessly consume our natural resources, but preserves them."
Christian Estrosi said: "The French Government set ambitious objectives for the Grenelle Environment Forum. Indeed, by 2020, 23 percent of the energy produced in France will have to come from renewable energy sources. The aim set by France is therefore above that of the European Union, which is of 20 percent in 2020. Furthermore, the Government and the President of the French Republic has made eco-industry one of the main issues of the Industry's General Assembly and the French National Loan. Within this framework, the Government has decided to allocate near to five billion euros to sustainable development."
The Forum, which had 165 attendees, also had the following speakers and moderators:
• Steve Howard, Chief Executive Officer (CEO), The Climate Group
• Patty Fong, Chief Operating Officer (COO), European Climate Foundation
• Nicola Rega, Advisor, Eurelectric
• Jean-Pascal van Ypersele, Vice-Chair of Intergovernmental Panel on Climate Change (IPCC) Professor of Climatology, Université Catholique de Louvain
• Russel Mills, Director Global Energy and Climate Change Policy, Dow Chemical
• Mark Hopkins, Director of International Energy Efficiency, UN Foundation
• Professor Tadj Oreszczyn, Director of Energy Institute, University College London
• Ricardo Cordoba, President, GE Energy Western Europe and North Africa
• Michèle Sabban, VP, Regional Council, Ile-de-France, and President, Assembly of European Regions
• Birgitte Andersen, Policy Officer, DG Energy, European Commission
• Clay Nesler, Vice President, Global Energy & Sustainability, Johnson Controls
• Serge de Gheldere, Belgian Climate Ambassador and Chief Executive Officer (CEO), Futureproofed
• Paolo Bertoldi, Energy Efficiency Action Leader, Institute for Energy, Joint Research Center, European Commission
• Bernard Gilliot, Directeur Général Adjoint, Tractebel Engineering
• Amal Haddouche, représentante du Ministère Marocain de l'Energie, des Mines, de l'Eau et de l'Environnement
• Emily Melton, Senior Director, Operations and Institutional Development, World Energy Council
All greenhouse gas emissions relating to the organisation of the Euro-Mediterranean Energy Efficiency Forum will be offset thanks to the Prince Albert II of Monaco Foundation's "Monaco Carbon Offsetting" programme.
About Prince Albert II of Monaco Foundation
The Foundation was created by H.S.H. the Sovereign Prince of Monaco in June 2006 and is dedicated to the protection of the environment and the promotion of a sustainable development on a global scale. The Foundation's efforts focus on three main areas: Climate Change and Renewable Energies, Biodiversity, Water and Desertification. The Foundation gives its support to projects in three main geographical zones: the Mediterranean Basin, the Polar Regions, and the least developed countries.

The Prince Albert II of Monaco supports initiatives by public and private organizations and companies, in the field of research and studies, technological innovation and socially-aware practices.

The Foundation is committed to raising the awareness of the population and States by implementing communication action plans capable of generating the maximum mobilization. In order to stimulate and develop innovation, the Foundation supports scientific and technical monitoring at an international level. To learn more, or to make a donation to the Foundation, please visit www.fpa2.com

About Johnson Controls

Johnson Controls is a global diversified technology and industrial leader, serving customers in over 150 countries. Our 130,000 employees create quality products, services and solutions to optimize energy and operational efficiencies of buildings; lead-acid automotive batteries and advanced batteries for hybrid and electric vehicles; and interior systems for automobiles.
Our commitment to sustainability dates back to our roots in 1885, with the invention of the first electric room thermostat. Through our growth strategies and by increasing market share we are committed to delivering value to shareholders and making our customers successful. To learn more, www.johnsoncontrols.com