Back to the list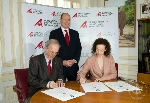 The Prince Albert II of Monaco Foundation awarded ISO 9001 and 14001 certification
Monaco
Since 18thFebruary 2013 the Prince Albert II of Monaco Foundation has been certified to the ISO 9001 and 14001 international standards, which are respectively quality and environmental standards.
On Wednesday 27thMarch, Ms Lise-Marie Biez, Director General for France of Det Norske Veritas (DNV) Business Assurance presented the dual certificate to H.S.H. the Prince concerning his Foundation.
The ISO 9001 certificate confirms that the quality management system implemented internally has been certified in accordance with a set of "good practice" standards with a view to improving quality and satisfying its "clients". The ISO 14001 certificate confirms that the organisation's environmental management system complies with the best practice in force so as to minimise its environmental impact.
The certificates issued mean that people externally will know that the processes used internally by the Foundation meet the standard requirements and that it operates in line with them.
The Prince Albert II Foundation's adherence to these international standards is a guarantee that it works in compliance with the standards in force, for the purposes of ensuring the sound management of its actions, testing its efficiency on a continuous basis and constantly improving the quality of its relations with its partners, in a permanent effort to reduce the environmental impact generated by its activities.
In the form of processes, the Foundation optimises the quality of the services it delivers to the various people it deals with: Donors, Project Managers and Governing Bodies. It minimises the environmental impact of its activities, implements action plans to prevent incidents, continuously strives to improve its processes and performance, sets up management tools adapted to the diversity of its projects and, of course, complies with all the legal requirements.
The systems that the Foundation has implemented will be evaluated every year in order to ensure that its activities still comply with the standards.
The ISO 14001 certification process is part of the strategy the Foundation has adopted to reduce its ecological footprint. For information, in 2011 the Villa Girasole, the Foundation's headquarters, benefitted from a photovoltaic solar power system consisting of 36 panels covering a surface area of 60m2, thus contributing towards the energy efficiency efforts already made. This has resulted in a 50% reduction in power consumption compared to 2005, with 20% of the total annual consumption already being generated by the photovoltaic system.