Back to the list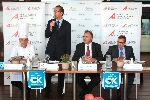 The Prince Albert II of Monaco Foundation becomes the South East regional coordinator for the ''Mr Goodfish'' campaign for the sustainable consumption of fish
Monaco
The Prince Albert II of Monaco Foundation announced during a press conference held at the Fairmont Monte Carlo on 17th October that it would become the South East regional coordinator for the "Mr Goodfish" campaign to promote the responsible consumption of sea products.
In association with the Mare Nostrum aquarium and the Oceanographic Museum of Monaco, the Prince Albert II of Monaco Foundation will be making professionals, fishermen and restaurant owners aware of this issue. They undertake to propose and indicate clearly and explicitly the sea products that it is preferable to select if we want to consume in a sustainable way.
The Fairmont Monte Carlo, which has always been concerned about the environment and is a longstanding partner of the Prince Albert II of Monaco Foundation, decided to join the launch of this initiative by offering a local and sustainable menu specially prepared by the Executive Chef and Meilleur Ouvrier de France, Philippe Joannès.
Too many fish species are currently overfished and threatened with extinction whilst many are not widely known, abundant and moreover delicious.
This situation led to the "Mr Goodfish" campaign being initiated in 2010 by 3 of the largest aquariums in Europe: Acquario di Genova (Italy), Aquarium Finistaerre (Spain) et Nausicaa – Centre National de la Mer (France).
The goal of this initiative, which has already met with great success in the Channel-North Sea area, is to offer an alternative to consumers by encouraging them to try new species selected from a list established by the "Mr Goodfish" campaign. The list of fish is planned at each change of season according to the region, the state of the resource, the size and the status of the species (protected or not).
Committed since its creation to the preservation of endangered marine species and in particular the bluefin tuna, the Prince Albert II of Monaco Foundation will coordinate the development of the "Mr Goodfish" campaign, firstly on the French Riviera and secondly along the whole Mediterranean coast.
As part of this initiative, the Fairmont Monte Carlo has pledged to tailor its procurement requirements and menus and to showcase its commitment by means of a message on all the menus of its restaurants.
More information about the Mr Goodfish program : www.mrgoodfish.com