Back to the list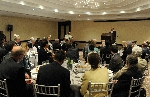 The Prince Albert II of Monaco Foundation present in Durban
Monaco
On the occasion of H.S.H. the Sovereign Prince's trip for the seventeenth United Nations Climate Change Conference (COP 17), the Prince Albert II of Monaco Foundation, in partnership with the United Nations Foundation and the International Cooper Association, hosted a dinner in Durban on Tuesday 6thDecember.
The event, presided over by HSH Prince Albert II, brought together over 60 personalities, political leaders, representatives of international institutions and economic circles, was focused on the development of energy efficiency on a global scale.
As HSH the Prince pointed out in his address, "Improving energy efficiency is one of the major challenges of the battle we are fighting together against global warming.Today, this is the easiest and most immediate pathway to reduce dependency on fossil fuels".
The Prince Albert II of Monaco Foundation has long been involved in the development of energy efficiency, including the organisation of the Euro-Mediterranean Forum on Energy Efficiency in 2010 and 2011. Through this type of initiative, the Foundation promotes an approach integrating politics, technology, the interests of both companies and individuals, as well as communication, with a view to achieving the objectives of cutting greenhouse gas emissions in order to limit the increase in global average temperatures to +2° by the end of the century.