Back to the list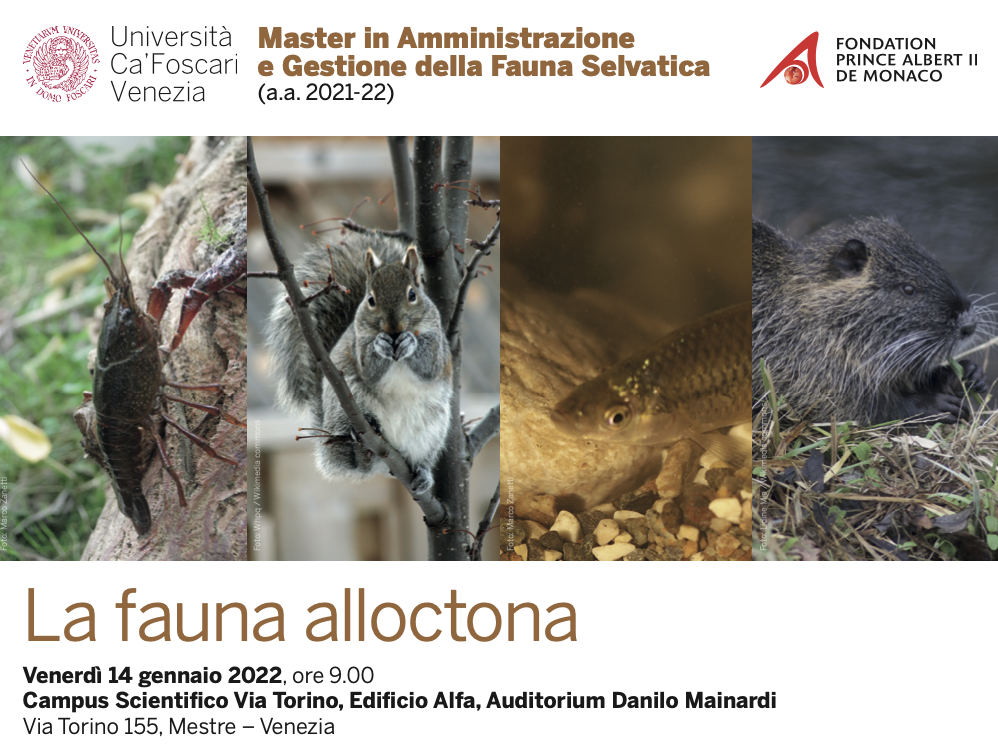 The Prince Albert II of Monaco Foundation - Roma Ets offers Scholarships for the Master's Course in Wildlife Management and Administration at the Ca' Foscari University in Venice
Italy
The Prince Albert II of Monaco Foundation and the Master's course at the University of Ca' Foscari in Venice are entering into a partnership based on common interests in wildlife.
The Prince Albert II of Monaco Foundation works at international level to protect the environment and promote sustainable development. In this context, the Foundation is strongly committed to the protection of wild animals as an essential component of the environment.
The Master in Wildlife Management and Administration trains technicians to deal with wildlife management issues with the necessary skills in biology, law, economics and ethics and conducts research in these areas.
As part of this collaboration, the Prince Albert II of Monaco Roma E.T.S. Foundation is offering two scholarships of € 3,800.00 each, enabling the total cost of enrolment in the Master's course for the academic year 2021/22 to be financed, to deserving students who share the Foundation's values.
The winners, strengthened by the skills acquired in the Master's course, will have the opportunity to collaborate with the Foundation to raise awareness of nature conservation.
This collaboration between the Master's degree of Ca' Foscari University and the Foundation will be presented at the Alloctone Wildlife Conference organised on 14 January 2022 at the Ca' Foscari Science Campus.
For more information on the scholarships, the conference and the master course, for which the deadline for application is 17 January 2022, please visit www.unive.it/master-fauna (section How to apply). For further information please send an email to tutor.masterfauna@unive.it
LA FONDATION PRINCE ALBERT II DE MONACO ROMA ETS METTE A DISPOSIZIONE BORSE DI STUDIO PER L'ISCRIZIONE AL MASTER UNIVERSITARIO IN AMMINISTRAZIONE E GESTIONE DELLA FAUNA SELVATICA DELL'UNIVERSITA' CA' FOSCARI DI VENEZIA

La Fondation Prince Albert II de Monaco e il Master di Ca' Foscari hanno stretto un rapporto di collaborazione fondato su comuni interessi in materia di fauna selvatica.

La Fondation Prince Albert II de Monaco opera a livello internazionale per la tutela dell'ambiente e per la promozione dello sviluppo sostenibile. In questo ambito è grande l'impegno della Fondazione verso la protezione degli animali selvatici come componente essenziale dell'ambiente.

Il Master in Amministrazione e Gestione della fauna selvatica forma tecnici capaci di affrontare i problemi di gestione della fauna selvatica con le necessarie competenze di biologia, di diritto, di economia e di etica e svolge attività di ricerca in questi campi.

Nell'ambito di questa collaborazione la Fondation Prince Albert II de Monaco Roma E.T.S. mette a disposizione 2 Borse di studio dell'importo di € 3.800,00 ciascuna, a copertura totale del costo di iscrizione al Master per l'anno accademico 2021/22, destinate a studenti che siano meritevoli e condividano i valori della Fondazione.

I vincitori, forti delle competenze acquisite grazie al Master, avranno la possibilità di collaborare con la Fondazione nell'opera di sensibilizzazione sulla protezione della natura.

Le ragioni e le aspettative della collaborazione tra il Master e la Fondazione saranno illustrate in occasione del Convegno sulla Fauna Alloctona organizzato per il giorno 14 gennaio 2022 presso il campus scientifico di Ca' Foscari.

Per ogni dettaglio sulle borse di studio, sul convegno e sul Master i cui termini di iscrizione scadono il 17 gennaio 2022, può essere consultato il sito www.unive.it/master-fauna (sezione Come Iscriversi) ed ogni informazione può essere richiesta inviando una mail a tutor.masterfauna@unive.it .
Convegno sulla Fauna Alloctona