Back to the list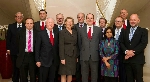 The Prince Albert II of Monaco Foundation's General Assembly and first Board of Directors' Meeting 2012
Monaco
The Prince Albert II of Monaco Foundation's Board of Directors met on 13th April 2012 for its first meeting of the year under the Presidency of H.S.H. the Sovereign Prince.
During the meeting, the Board members approved the Foundation's accounts for 2011, which set out the 198 projects it has supported since it was first established in June 2006 amounting to a total of 18.3 million Euros.
13 new projects within the Foundation's three priority areas were also presented to the members for approval.These include:
The project implemented by the

Fondation

Energies pour le

Monde

in southern Madagascar for the development of solar and wind energy,
The campaign conducted by the Pew Charitable Trust whose objective is to create a marine protected area in the Northwest Passage in the Canadian Arctic,
Conservation of the Mediterranean monk seal with the implementation of an ecosystem-based management plan, in partnership with

Tethys

Research Institute, the Hellenic Society for the study and protection of the monk seal and WWF Greece.
The meeting also provided the opportunity to review the work accomplished by the Foundation's governing bodies which were partly renewed in 2011.
In the early afternoon, the Prince Albert II of Monaco Foundation's Biennial General Assembly met in the presence of some sixty co-founders and donors, during which a presentation was given on the activities of the past two years.The meeting also promoted exchange between the Sovereign Prince and the active members of his Foundation.