Back to the list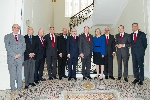 The Prince Albert II of Monaco Foundation's General Assembly and first Board of Directors' Meeting 2014
Monaco
The Prince Albert II of Monaco Foundation's Board of Directors met on 11th April 2014 for its first meeting of the year under the Chairmanship of H.S.H. the Sovereign Prince.
During the meeting, the Board members approved the Foundation's accounts for 2013. Since it was first established, over 26 million Euros has been invested in projects supported by the Foundation. Currently 57 are under way.
12 new projects in the Foundation's three priority areas were also put forward to the members of the Board of Directors for approval. These include:
− The Seguin Foundation's project in "La Visite" national park in Haiti, which will help to combat erosion and strengthen water resources thanks to reforestation operations.
− Assessing the ecological services provided by wetlands and their role as "buffers" of extreme weather events in the countries bordering the Mediterranean.
− Co-organisation, with the NGO Surfrider, of an International Conference in Monaco on plastic waste in the seas and oceans, which will be illustrated by the results of Tara's next scientific expedition in the Mediterranean.
On the same day in the early afternoon, the Prince Albert II of Monaco Foundation's Biennial General Assembly met in the presence of approximately fifty of its confounders and donors. During the meeting, the activities of the first two years were presented. The meeting also fostered exchange between the Prince Albert II of Monaco Foundation and its active members.