Back to the list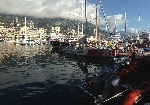 The Prince Albert II of Monaco Foundation sponsored the CJD Monaco (Centre for Young Company Directors) Congress
Monaco
The Prince Albert II of Monaco Foundation sponsored the first edition of the CJD Congress which was held at the Monaco Yacht Club on 10th October 2013.
The focus of the plenary session was: Reconciling a winning spirit with respect for biodiversity. The panel was made up of Claude Bourguignon (agricultural engineer), Mauro Colagreco (Owner/Manager of the Mirazur Restaurant), Emmanuel Delannoy (sustainable development expert), Pierre Yves Guennec (skipper) and Philippe Mondielli (Scientific Director for the Prince Albert II of Monaco Foundation) and provided substantial input to the debate with regard to the lessons learned from several projects implemented by the Foundation.
The "Jeunes Dirigeants" boat was moored to the Yacht Club's pontoon and several sea trips were organised with its skipper, Pierre Yves Guennec.
This sailboat, a 55 ft monohull in aluminium, owing to its design and history, is totally in line with the Foundation's work as it demonstrates the commitment to defend and put into practice a high-performance model incorporating the economic, social, societal and of course environmental dimensions.
To illustrate this last point with an example, switches on the instrument panel and composite elements were recovered from an old Boeing 747. The "young directors" took advantage of their network to build this boat by bartering and exchanging know-how.
The sailboat shows that with limited resources, determination and a "sustainable development" spirit, it is possible to build a high-performance boat designed for a transatlantic crossing. Pierre Yves Guennec thus managed to finish 8th in the 2006 Route du Rhum and 4th in the 2010 edition.
The organiser of this event for CJD MONACO, David Museur, suggested that Pierre Yves Guennec set off for his new expedition, which involves sailing around the world in a sailboat named "55° sud expédition australe", from Monaco.