Back to the list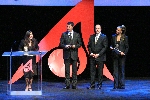 THE PRINCE ALBERT II OF MONACO FOUNDATION UNVEILS WINNERS OF INAUGURAL ENVIRONMENT AWARDS
Monaco
The awards, which acknowledge exceptional contributions in the fields of climate change, biodiversity and water, were won by Belgian explorer Alain Hubert, renowned primatologist Jane Goodall and environmental campaigner Sunita Narain.

His Serene Highness Prince Albert II was on hand to present the awards at the ceremony in Monaco's Grimaldi Forum.



Alain Hubert, the Belgian explorer and co-founder of the International Polar Foundation, won the Climate Change Award for his clairvoyance and commitment towards climate change-related issues. He is currently in Antarctica overseeing the completion of the only polar base to operate entirely on renewable energy.

Jane Goodall won the Biodiversity Award for her life-long commitment and pioneering research into chimpanzee behaviour, which has transformed scientific perceptions of the relationship between humans and animals.

Sunita Narain, the writer and environmental campaigner, received the Water Award for her work highlighting the need for water security and the use of rainwater harvesting in India. Her work advocates the role of communities in managing their own water systems.

H.E. Mr Bernard Fautrier, Vice President and Chief Executive Officer of the Foundation, said: "I am delighted that The Prince Albert II of Monaco Foundation has been able to recognise three of the most inspirational individuals working in the environmental field today".

The Prince Albert II of Monaco Foundation is dedicated to protecting the environment and implementing solutions, which promote sustainable development. It focuses on three major challenges: global warming and renewable energies; loss of biodiversity; and improving access to water and fighting desertification. It aims to be a catalyst for environmental projects by bringing together networks of researchers, companies and individuals with a shared objective – the protection of the environment on a global scale.