Back to the list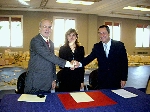 The signing of a tripartite agreement featuring amendments
Monaco
The Pavilion of Monaco at the 1992 Universal Exhibition in Seville, in the words of its architect Fabrice Notari "a reflection of a modern Monaco built around its long history", met with phenomenal success beyond all initial expectations with over one million two hundred thousand visitors.

Its aquarium containing 400 000 litres of artificial sea water was a true example of innovation within this area.

Following the exhibition, the Monaco Government gave serious thought to the reconversion of the Pavilion of Monaco.

An Official Deed of Gift was signed before a notary on 15th April 1993.

The Municipality of the Andalusian capital entrusted EMASESA (Municipal Water and Sanitation Company of Seville) with the management, and in conjunction with the University of Seville's department of biology, agreed to pursue research on the waters of Guadalquivir, to preserve and protect the endangered fish species, within the establishment which was named "The Prince Albert I of Monaco Aquatic Ecological Station".

Fifteen years later, the City of Seville, true to the terms of the convention that bound it to the Monegasque State until 15th January 2043, contacted the Monegasque authorities in order to plan the construction of a new building in compliance with the principles of Sustainable Development. This building would house a research unit over several levels, consisting of laboratories, a conference and exhibition hall, as well as EMASESA offices. In tribute to the Principality, the name "The Prince Albert I of Monaco Aquatic Ecological Station" would be kept.

The tripartite agreement was signed on 26th November 2007 by Mrs Natali-Laure, the Administrator of Monaco State Property Department, H.E. Mr Fautrier, Vice-President of the Prince Albert II of Monaco Foundation and Mr Diaz Muñoz, EMASESA Director of Operations, commissioned by H.E. Mr Sanchez-Monteseirin, the Mayor of Seville, and in the presence of Mrs Projetti, Director of the Pavilion during the exhibition.

The Principality of Monaco has transferred its rights to the Prince Albert II of Monaco Foundation which is to develop all activities inside the new building by setting up: exhibitions, conferences and international meetings and may house the future head office of the "Prince Albert II of Monaco Foundation Spain".