Back to the list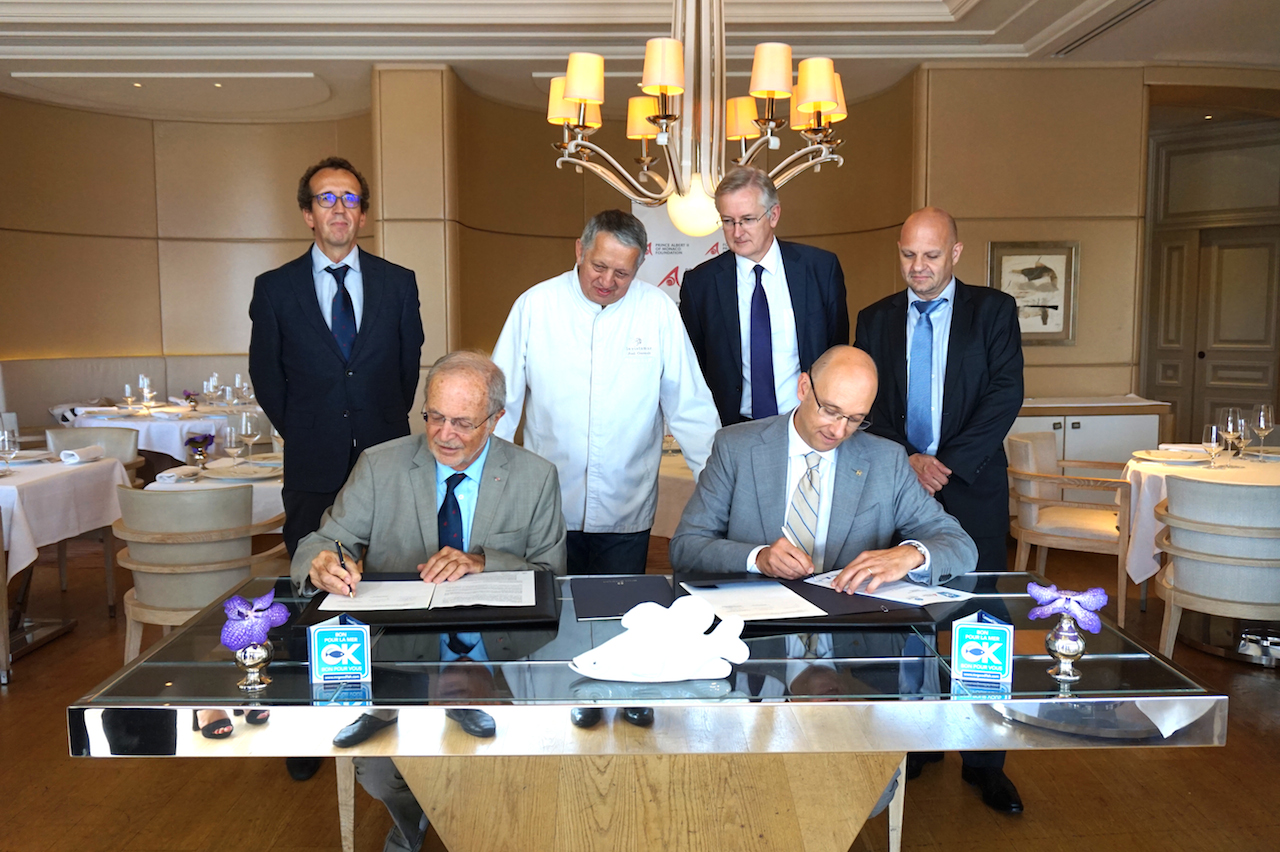 The Vistamar restaurant once again demonstrates its commitment concerning the sustainable consumption of seafood products
Monaco
The Michelin-starred restaurant, Le Vistamar at the Hotel Hermitage Monte Carlo has joined forces with the Prince Albert II of Monaco Foundation to promote responsible consumption of seafood products and today has become the first restaurant within the Monte Carlo Société des Bains de Mer to join the Mr Goodfish programme.
The Hotel Hermitage, represented by Mr Pascal Camia, Director General of the establishment, and the Prince Albert II of Monaco Foundation, represented by H.E. Mr Bernard Fautrier, officialised the commitment of the Vistamar restaurant today in the presence of Mr Dimitri de Andolenko, the Purchasing Director for the Group and the Chef Joël Garault.
In charge of the Vistamar restaurant, which overlooks the Mediterranean Sea and dominates the harbour of Monaco, Chef Joël Garault has imposed his values since 1998 offering a Mediterranean cuisine marked by his passion to enhance the flavours of locally sourced fish locally from Monaco's last remaining fishery. A long-standing defender of sustainable fishing, the Chef is convinced of the values upheld by the Mr Goodfish programme. This commitment is in line with the environmental and sustainable approach that the Monte-Carlo Société des Bains de Mer initiated in 2007 when it introduced its environmental charter.
Launched in 2010, the Mr Goodfish programme results from a simple fact: too many species of fish are currently caught which are threatened with extinction whilst many others are unknown, plentiful and moreover delicious.
The aim of this initiative, currently supported by several hundred professionals, is to propose an alternative to consumers inviting them to discover new selected species in accordance with a list established by the Mr Goodfish programme. This list, produced by marine resource specialists, is renewed at every change of season, according to the state of the resource, size, season and status of the species.
Committed from the outset to the protection of endangered marine species and in particular the blue fin tuna, the Prince Albert II of Monaco Foundation is co-ordinating the development of the Mr Goodfish programme in the Mediterranean region.