Back to the list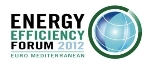 Third Euro-Mediterranean Energy Efficiency Forum promotes action to achieve Sustainable Energy For All
Monaco
Monaco – November 9, 2012 – Nearly 200 public and private European policy and decision makers convened at the third Euro-Mediterranean Energy Efficiency Forum to discuss ways to achieve the European Union's objectives by 2020. Johnson Controls, the Prince Albert II of Monaco Foundation and The Climate Group hosted the event in Monaco, 8 and 9 November.
His Serene Highness Prince Albert II of Monaco welcomed attendees at the
Méridien

Beach Hotel in Monaco with an

openingspeech

and highlighted: "Year after year, this Forum proves its relevance and timeliness. Against a backdrop of so much uncertainty, few topics appear to unify as much as the one bringing us together today. The major challenge of any action against climate change is indeed succeeding in developing an alternative growth model, one not based solely on the refusal of an old order and the condemnation of what for many years was at the root of our progress, and which many still need today.
Environmental commitment should serve as a vehicle for progress. Progress
not only in terms of lifestyle and comfort, but also of principles. In this
respect, energy efficiency has a special role to play."

The Forum included speakers such as:
Pierre

Cardin

, famous couturier, artist and designer of

Palais

Lumière

Venice, Italy. He and his nephew Rodrigo

Basilicati

, architect and chief executive officer of

Palais

Lumière

Society, introduced the concept for a new kind of skyscraper that will serve the needs of businesses, residents and the public while also being self-sufficient in terms of energy production and consumption.

Basilicati

said: "We plan to transform greater metropolitan Venice by stimulating external investment. We want to dazzle the viewer's eye while bringing together all imaginable energy efficiency and renewable energy technologies."
Dr. Kandeh K. Yumkella, Director-General of the United Nations Industrial Development Organization (UNIDO), who expressed why energy efficiency matters, even to the energy poor. Yumkela said: "Research showed that there are three billion people moving into the middle class by 2030. This means demand for more televisions, more cars and more buildings. If we continue to consume as we do today we would need many more planets."
Clay Nesler, vice president Global Energy and Sustainability, Building Efficiency, Johnson Controls. "Following the recent adoption of the EU Energy Efficiency Directive and ongoing implementation of the Energy Performance Buildings Directive, we have a favourable legislative environment which should lead to a 15 to 17 percent improvement across the building sector", explained Nesler. "The focus of this year's effort will be to build on those positive developments and make energy efficiency a smart choice for all. By taking action together we can promote an environmentally and economically sustainable future for all."
Other keynote speakers included Gene Murtagh, CEO Kingspan, and Lluis Recorder, Minister of Territory and Sustainability, Catalonia.
Mark Kenber, CEO, The Climate Group closed the Forum: "In order to accelerate progression to a low carbon economy it is essential that businesses and households alike incorporate energy efficiency as part of a wider commitment to sustainable, clean living. It should not however, be considered in isolation. An integrated approach to low carbon solutions is the quickest and most effective method of upscale. From financial products such as energy efficiency funds for institutional investment to LED lighting in homes we all have a role to play."
The hosts of the EEF recognized individuals or organizations that have acted in ways that have contributed to the goal of improved energy efficiency.
2012 Euro-Mediterranean Energy Efficiency Innovator Award Recipients:
Projects Award — Yamina Saheb, Head of the Sustainable Buildings Centre at the International Energy Agency (IEA) for the Building Energy Efficiency Policies (BEEP) database released in October 2012. The BEEP database is a global one-stop shop for building energy codes, labelling and incentive schemes implemented in the 28 IEA member countries, the BRICS countries (Brazil, China, India, Russia and South Africa) as well as Tunisia for a total of 34 countries. BEEP currently provides detailed information on more than 400 building energy codes, 200 labelling schemes and 200 incentive schemes.
Business model Award — The City of Berlin, in partnership with the Berlin Energy Agency (BEA), has done pioneer work to develop and apply an excellent model to improve energy efficiency in buildings. The model, called "Berlin Energy Saving Partnership" (ESP), offers efficient refurbishment of public and private buildings with the pivotal advantage of releasing the building owner of any investment costs.
Communication Award — Fiona Harvey, Environment editor, The Guardian, for raising awareness about the new Energy Efficiency Directive and the UK's position through her articles. Fiona Harvey is an award-winning environment journalist for the Guardian. She has reported on every major environmental issue from as far afield as the Arctic and the Amazon and her wide range of interviewees include Ban Ki-moon, Tony Blair, Al Gore and Jeff Immelt. Her work has garnered awards from the Foreign Press Association, the British Environment and Media Awards, and the Society of Environmental Journalists.
For more information on the Euro-Mediterranean EEF, visit: www.ee-forum.eu