Back to the list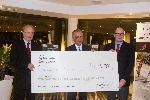 Two major partners, one major cause...
Monaco
In the remote region of Engaroni Oltiyani* at the foot of Kilimandjaro, in an ecological corridor that connects two conservation areas, is a unique water point, an essential port of call for wildlife.

While for centuries cattle and wildlife have lived in harmony amid this oasis of life, the spring that supplies this water point is currently in danger of drying up.

Aware of this situation, the Fairmont Monte Carlo has joined forces with the Prince Albert II of Monaco Foundation by making a donation for each client served throughout the season the Horizon Deck Restaurant is open, with the aim of restoring the spring, essential for the survival of emblematic species such as the giraffe which, thanks to its presence, contributes to the development of ecotourism, crucial for the Masai populations.

After a presentation, by the Vice-President of the Prince Albert II Foundation, H.E. Mr Bernard Fautrier, of the project which is being conducted on site in Kenya in cooperation with the organisation, InterActions & Solidarity, a cheque for € 13,500 was handed over yesterday evening to HSH Prince Albert II by the Regional Vice-President and Director General of the hotel, Xavier F. Rugeroni.
An emotional moment which confirms the importance the Fairmont Monte Carlo attaches to the agreement it has signed with the Prince Albert II Foundation, thus bringing together two major partners for a major cause...