Back to the list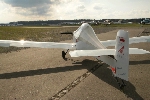 Visit of H.S.H. Prince Albert II of Monaco in Friedrichshafen
Monaco
As part of the LEAP (Lindbergh Electric Aviation Program) initiative supported by the Prince Albert II of Monaco Foundation, H.S.H. the Sovereign Prince travelled to the Aero Friedrichshafen show in Germany on 13thApril 2011, in order to visit the "E-Flight Expo" dedicated to new technologies in electric flight.
On this occasion, the Sovereign Prince took part in a round table in the company of some of the big names in aviation: Erik Lindbergh, Cornelius Dornier, Sergei Sikorsky, Amanda Wright Lane, Wolfgang Von Zeppelin, as well as Bertrand Piccard and André Borschberg, kingpins of the solar-powered plane project "Solarimpulse". In his address, the Sovereign Prince emphasised his conviction that electric flight has a future, in the light of the developments in technology. Such progress is an affirmed fact concerning the performance of the electric engine -lighter, more reliable and more energy-efficient than the heat engine. This is also the case as far as electricity storage in increasingly lighter and higher-performance batteries is concerned, just like the production of embedded electricity by a fuel cell or photovoltaic panels.
During the day, two electric plane world records (speed based on a 15km round trip and at absolute altitude) were broken by Jean-Luc Soulier, engineer and pilot aboard a plane belonging to the company LSA (http://www.lsa-aerotechnics.com), sporting the colours of the Principality and the Prince Albert II of Monaco Foundation, thus testifying to the efficiency of these new technologies.
The LEAP initiative, in addition to promoting clean aviation, strives to raise public awareness of this issue, in particular through the implementation of educational measures. With this in mind, an international "LEAP team" was set up in 2010, bringing together Monegasque, American and German students, who met in Friedrichshafen. This initiative is aimed at encouraging students to investigate, examine and put forward solutions concerning the promotion of electric aviation, by means of documentaries and interviews with pilots, industrialists and inventors, conducted by the students themselves. Following this first meeting, the students spontaneously created their "LEAP club", a concept which has been extended to other higher education institutions.