Back to the list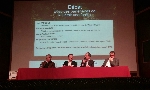 ''Why do they support Luc Jacquet and Wild Touch's projects?''
Monaco
Philippe Mondielli, Scientific Director of the Prince Albert II Foundation, took part alongside Luc Jacquet, Director of the film "Once Upon a Forest" and founder of Wild Touch, Jean-Paul Capitani, President of Actes Sud and Stéphane Couchoux, Associate Lawyer, in charge of the "Foundations, Philanthropy & Companies" sector for FiDAL, in a round table session entitled "Why do they support Luc Jacquet and Wild Touch's projects?" ».
Prior to shooting, funding from the Prince Albert II of Monaco Foundation and other partners enabled the crew to do some location research in Guiana, and subsequently Gabon, and to fine-tune the equipment. The first shots were also taken on this occasion. This process aroused the interest of the production company "Bonne Pioche" which then took charge of finding the funding necessary to complete the shooting of the feature-length film.
The Prince Albert II of Monaco Foundation organised a premier screening of the film in Monaco at its Award Ceremony on 30th September 2013, prior to its release in cinemas on 13th November 2013.
From the very first phases of the project, the association Wild Touch implemented its cross-media approach, including the creation of a web-series distributed via the website and the social networks, "artists in residence", a series of exhibitions in order to showcase other artistic views of the rainforest and an educational programme geared towards youth.
Thus, the support provided by the Prince Albert II of Monaco Foundation at the very beginning of the project was a decisive factor in this multidisciplinary production focused on the primary forests. The subject was daring, and over and above the interest of the film itself, it provided an opportunity to develop a very large number of communication and awareness operations. The tropical rainforests and the challenges involved in their preservation are fully in line with the Foundation's action areas, in particular via one of its main programmes: "Monaco makes a commitment against deforestation".