Back to the list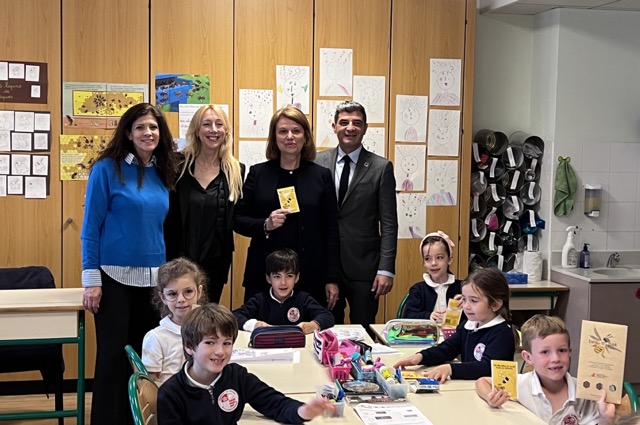 World Bee Day The Prince Albert II of Monaco Foundation and the Department of National Education, Youth and Sports are raising awareness among the youngest children about the preservation of bees
Monaco
Events
On Friday 19th May 2023, the day before World Bee Day, Olivier Wenden, CEO and Vice-President of the Prince Albert II of Monaco Foundation, and Isabelle Bonnal, General Commissioner in charge of the Department of National Education, Youth and Sports, went to Saint-Charles School to meet young first and fourth grade pupils and give them packs of flower seeds. The children shared their knowledge on the role of bees and the importance of protecting them, demonstrating once again the quality of the awareness-raising work carried out by the teachers throughout the year.
Since 2017, the Prince Albert II of Monaco Foundation has been supporting the "Flowers for Bees" campaign alongside the Observatoire Français d'Apidologie, the first edition of which resulted in 100,000 melliferous seed packets being sown across France. The distribution of these packets each year helps to strengthen the bees' diet during the summer period when food resources are scarcer.
The opportunity was also taken to offer beeswax-based food packaging to the classes present, as an alternative to the use of plastic to transport lunches and snacks or to store food at home. Washable and reusable, they offer an effective solution for reducing daily waste. The packaging will be distributed to schoolchildren in the Principality in the coming weeks. The Foundation hopes to promote new eco-responsible habits among children and their parents, who are often looking for more ecological solutions, while raising awareness on the importance of protecting pollinating insects.